AgData
CropData Gateway or AgData platform is an ecosystem for data aggregation, management and visualization, providing a seamless interface for third-parties to access and correspond with CropData's customers. It is powered by CropData's Geo-Spatial Tile Management (GSTM) system, a platform with hundreds of microservices, that manages primary and secondary data, based on location and time, generating over 200+ indices on 22-levels from a 10m x 10m spot in the farm upwards, using advanced data analytics.
CropData provides 200+ indices related to the agriculture sector in convenient formats including map-based visual interface through convenient APIs. Indices provide granular analytics with differential viewpoints across geographical areas/levels and time.
Multiple Cropping Index

Gross cropped area to total cultivable area, to estimate the extent of utilization of the farmland across seasons.

Cropping Intensity

Cropping intensity calculates the percentage of gross cropped area to the net sown area, to estimate the extent of cropping pattern across seasons.

Net Sown Index

The net sown index assesses the area in which total crops are grown once in a year, for a particular region.

Crop Farming Index

The crop farming index estimates the ratio of individual crop area to other crops in the region.

Sustainability Yield Index

Sustainability Yield Index estimates the stability of a crop by evaluating the trend in the crop yield over the years.

Area Diversity Index

Area Diversity index highlights the practice of growing different crops per unit area within a season (seasonal diversity) as well as within a year (rotational diversity).

Crop Irrigation Index

Irrigated area estimates the water availability of the crop-specific vegetated area in a particular region.

Farm-size Index

Farm-size index provides crop-specific average sizes of agricultural landholding.

Soil Fertility Index

The soil fertility index (SFI) is an indicator that is used to evaluate soil fertility in specific regions. We assess the overall soil quality by measuring changes in the physical, chemical, and biological indicators and transforming them into single metrics.

Agri Economy Index

The Agri economy index estimates crop-specific risk in the agriculture economy of the region.

Production Stability Index

The production index estimates the production risk in the area and yield of a particular commodity.

Area Stability Index

Area Stability Index (PYaR) estimates the risk of a region and helps to predict the uncertainty of that region.

Crop Stability Index

Crop Stability Index (IYaR) estimates crop-wise risk in a particular region.

Price Volatility Index

The price volatility index estimates crop-wise price fluctuation in a region.

MSP Realization Index

MSP realization index is the representation of the deviation of the spot price from the minimum support price (MSP) by crop and region.

Cost of Cultivation Index

Cost of Cultivation Index is the estimation of income of the farmer by crop and region.

Stress Occurrence Index

Stress occurrence Index provides the probability of the stress at any particular time by crop and region.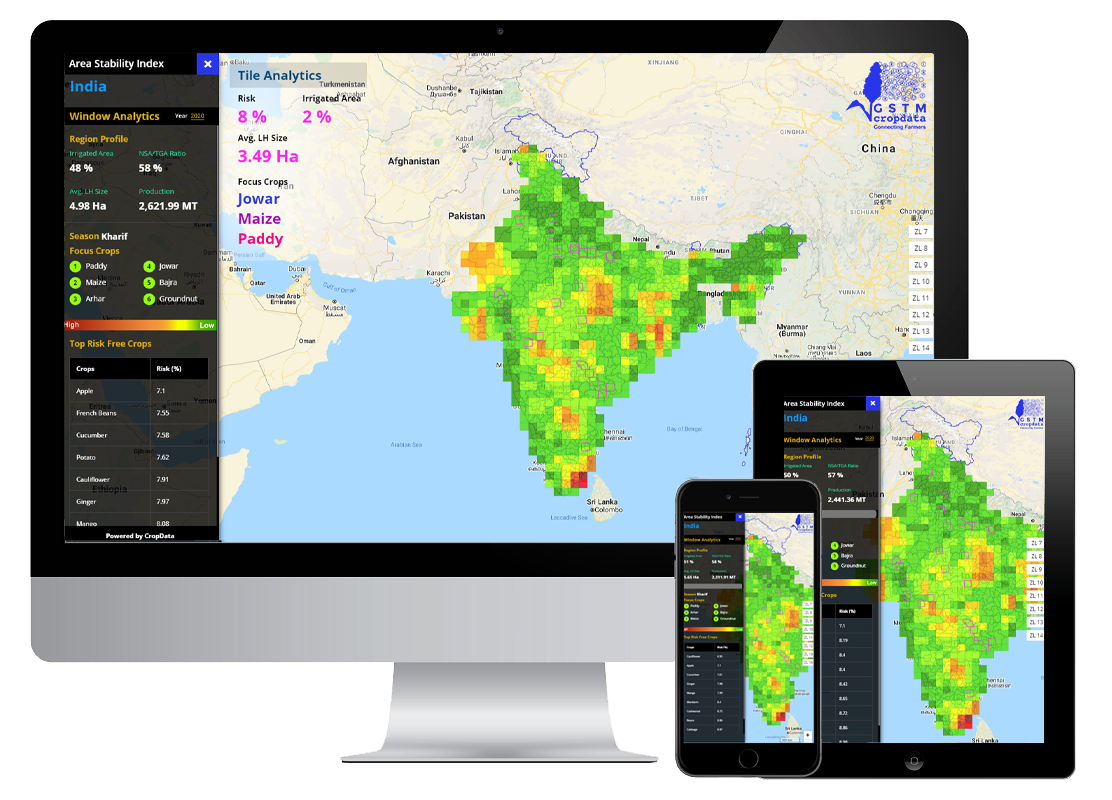 Geo-Spatial Tile Management (GSTM)
It's a proprietary data collection, analytics and visualization tool built on a geospatial and temporal architecture.
It maintains internal and external data by location, geographic regions (levels), time, crop and stress.
It can be customized to manage and visualize various indices where data is available by location and time.
CropData has 17 indices available through the GSTM architecture, which can be integrated into third-party websites effortlessly through convenient APIs.
Explore it